Can You Heat a Hot Tub On Solar Power?
On average, the cost to heat a hot tub is approx. £65 a month (when used for an hour a day and 4 hours at the weekend). With the ever-increasing energy prices, many people are now looking for more affordable ways to heat their hot tub.
Can you heat your hot tub with solar power?
The answer is yes, and one of the best alternatives as it's not only more cost-effective but it's also better for the environment.
There are two types of hot tub solar heating methods: one where the water is heated through a heat exchange panel, and one that uses regular solar panels with energy storage batteries.
1. Heat Exchange Panel
A heat exchange panel is the simplest way to heat your hot tub. However, it will only work well if you live in an area that receives at least 6 hours of direct sunlight per day.
How does it work? Simply put; cold water from the bottom of the hot tub passes through the heat exchanger via tubes and warms up by absorbing the sun's heat. In order to absorb the sun's heat, the tubes are placed on a black background, as black absorbs all wavelengths of light and reflects none. The more light the object absorbs, the more heat is absorbed since light is energy. Quite often, a glass or perspex cover is added to the front to magnify the heat.
Once the water has been heated, it is dispensed back into the top of the hot tub. As the water cools, it drops to the bottom of the hot tub where it is collected and runs through the heating process again.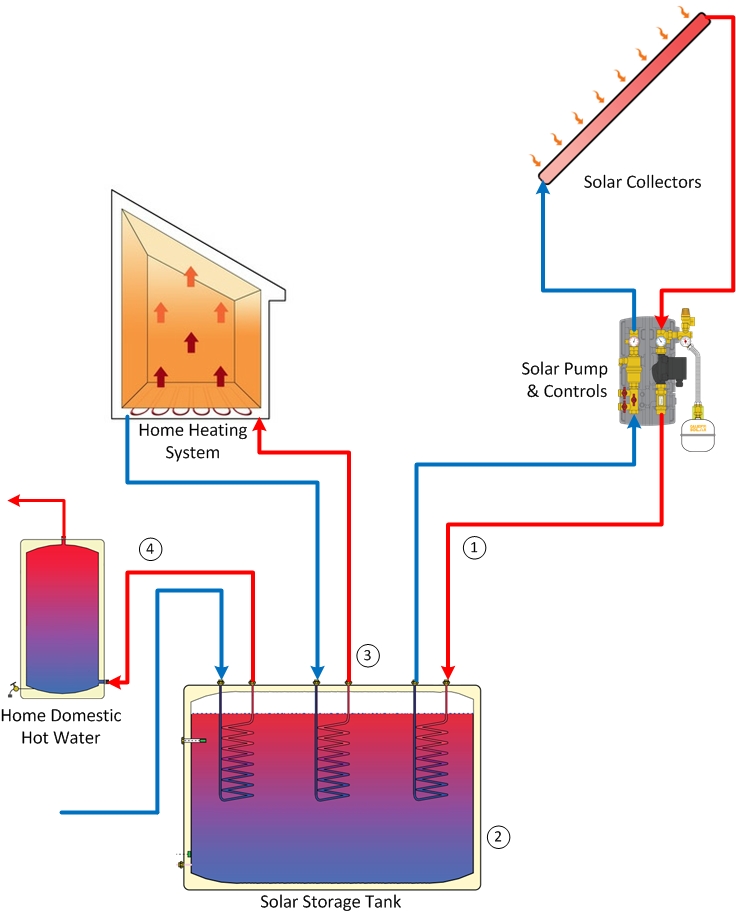 Pros:
Provides plenty of hot water
If you live in an area with a warm climate, you will get more hot water as more energy will be absorbed due to longer days and brighter sun.
Maintenance-free
Once it's up and running, this system is virtually maintenance-free. There are no moving parts or mechanical components that could go wrong.
Easy to fit
Not only is easy to set up, it's also quick to install so you can be up and running in no time at all.
It can be used alongside an electric heating system
Solar heating may not be feasible in colder climates, therefore the inbuilt electric heater will need to be used to provide that initial boost.
Cons:
Larger heat exchanger unit
Exchanger units can be 6 to 8 feet in length and 2 to 3 feet wide, so you'll need plenty of space to house the unit. You can place it away from the hot tub, however, the further away the heat exchanger is, the more water it will need to pump, and the less heat it will generate. Depending on the size of your hot tub, you may need to connect multiple units to heat enough water. Although you can stack them together, they do take up a lot of space.
No temperature control
There is no way to regulate the temperature of the water, you can only check the temperature by using a thermometer. On very hot days, the exchanger could pump scalding hot water into your hot tub, so you do need to be mindful of this. When using the inbuilt electric heater, it will automatically shut off to stop the water from boiling. However, there is no such device for solar heaters.
Cannot store energy
The system itself does not store energy, it simply heats on demand. However, you can connect traditional solar panels to batteries that will store the energy until it is needed. This system will heat the water in the hottest part of the day and will cool it once the sun sets.
2. Solar panels with energy storage batteries
An alternative method is to heat your hot tub using a solar panel alongside energy storage batteries. The solar panel will convert sunlight into electricity that will then be stored in the energy storage batteries.
We recommend you contact the manufacturer to find out if the system is suitable for running with your hot tub. As it requires a lot of energy, you will need to add additional power. The amount of power needed will depend on how much energy you use and how much sun your area gets.
Initial savings are limited as the upfront cost of the system is quite expensive. For any significant savings, you will need to use it for many years. It is possible for the system to work for up to ten years, making it a more attractive financial investment. However, you may need to replace the battery during this time.
This type of solar energy system is usually covered under warranty, so you don't have to wait for the hot tub to reach its maximum lifespan before installing it.
Will it void my warranty?
Before you begin looking for a solar power solution, make sure your hot tub has an expired warranty, otherwise, you could void it.
If it's still under warranty and you want to explore the solar panel route, you should contact the merchant whom you purchased it from. They might be able to convert it to solar energy for you and keep your warranty at the same time. Although it may be more costly than doing the conversion yourself, it doesn't make sense to void the warranty on your hot tub if you have one.
What are the cost savings?
It depends on many variables, such as how frequently the hot tub is used, how efficient the hot tub's insulation is, the temperature of the ambient air, the location of the hot tub and the size of the solar panel.
If the solar panel system is compatible with your hot tub and lasts five years, then you will save more than your current energy bill. However, there is a slim chance the solar panel system will return its costs over the five years and unlikely it will heat the hot tub for three-quarters of its heating needs.
If you plan to keep the hot tub and solar panel system for at least ten years, it should be worthwhile. A solar panel hot tub system is not only about saving money, it's also more environmentally friendly.
DIY solar panel hot tub conversions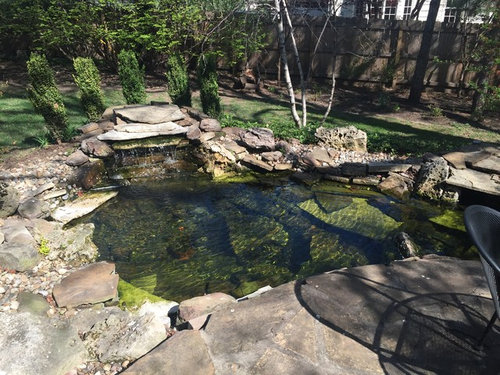 What if you could install a low-cost solar system in a matter of minutes? Imagine how much you could save on your energy costs. Solar conversions must be used over a long time in order to make them worthwhile. Depending on your personal circumstances, the financial benefit may not be worth it.
This is a great guide for creating a DIY solar heating system to heat your hot tub. Although it's not glamorous or elegant, it's easy to build and will contribute to heating the water. Although it won't work as well as a pre-made system, it is much cheaper than a ready-made one.
Does it work with a SOLARDOME® Glasshouse?
Yes, and a good solution if you are looking to enjoy the hot tub all year round whilst being protected from the elements. Using the dome as an additional room/cover will also reduce your energy requirements to keep it at temperature.
It is possible to install a SOLARDOME® Glasshouse if the hot tub is already in situ as the dome can be built over the hot tub – if you can move it around or protect it with wood whilst the frame is being constructed. You will need to drill holes through a base plate and run the cables from the outside solar panel directly to the hot tub. It is important you ensure the hole is sealed carefully.
If you decide to buy a dome first, and then install a hot tub/solar panel system, then ideally you will need a dome with double doors (or we suggest you find out the hot tub measurements first to ensure it will fit through the door). You will also need to include this solution into your groundwork planning, as ducting can then be included to host the services. A dome is also ideal for an in-ground spa with a pump externally.
Please note: the solar panel cannot be placed directly onto the dome due to its weight and size, but it can be placed or mounted in an open space nearby.
Conclusion
The right solar heating system for your hot tub will depend on how much use it gets, how much sunlight is available and what your environmental goals are.
If you live in an area with a warmer climate and are not a heavy hot tub user, then a solar power system is worth the time and upfront investment as it could save you money over time. If you're looking for a system with the lowest upfront costs, then the DIY route is worth looking into.
If you are looking to install a solar panel and/or hot tub with a SOLARDOME® Glasshouse, then we recommend you discuss it with Solardome Industries Ltd first before making any decisions.
Overall; installing solar power with a hot tub and enclosing it with a Solardome® geodesic dome will save your energy bills over time. As they are green renewable energy and won't release any harmful carbon dioxide or other pollutants into the environment, it will also help to reduce your carbon footprint too.